Company Profile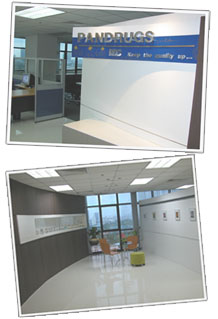 HISTORY
As a privately held company, our history traced back to the early 70's when we started to distribute generic drugs in Bangkok, the capital of Thailand. Knowing the importance of the quality medication for Thai people, the founder of PANDRUGS, who previously worked for one of the top U.S. pharmaceutical companies, has focused the company on the quality issue from start. 'Keep the Quality Up' has been under our logo ever since. In the early 80's, we have expanded our coverage throughout Thailand.
PRODUCTS
There are currently approximately 40 generic drugs in our inventory; comprising of NSAID, antihistamine, GI, cardiovascular, and antidepressant drugs, to name just a few. Pleased visit our products information page for more information.
Our focus has been mainly on our brand name products. But to give better service to our customers, we also offer generic drugs from other GMP manufacturers for international customers, as well as a contract manufacturing facility from GMP standard manufacturers. International customers will benefit from using GMP standard and low cost producers that will lead to a competitive position in the market for them. It is a kind of one-stop service you will not find anywhere!
SERVICES
Starting in the mid 90's, we have been focusing on mastering the art of distributing quality generic drugs and giving best services to our customers. Customers can buy generic drugs from any good company that offer competitive prices; but they tend to 'stick' to companies that offer the products at reasonable prices combined with great services. Four important things our customers get from us:
1) Standard product (from raw material to finish products)
2) Reasonable price
3) On-time-all-the-time
4) Knowledgeable sales representatives
Visit our customer services and policy section to learn more what our customers get by being our customers.
CUSTOMERS
We have been servicing thousands of customers nationwide during over 20 years of history. Our customers consist of government entities, private independent hospitals, chain-hospital, private clinics, independent as well as chain-drug stores.
INTERNATIONAL
We are currently expanding into international markets. Our customers will enjoy all of the above, plus timely response to specific request and one-stop-service. We are now working with many well established foreign companies to distribute our products in their local markets.
Any international customers or suppliers who would like to contact us please email to intsales@pandrugs.com so that we can explore an opportunity together.